Alfonso Donnarumma: 'My son has always wanted to play for Milan'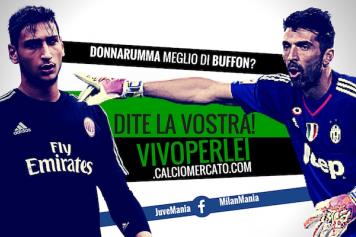 20 March at 19:50
Gigio Donnarumma is having another solid season as the 18 year old has been turning heads. He is the keeper who has made the most saves in the Serie A this season as he keeps on improving. The amazing thing is that he is only 18 years old and he still has a lot of room for improvement. His contract is set to expire with Milan in 2018 as this has been a hot topic of late. His agent Mino Raiola has been stalling a bit as he says he first wants to see what happens with the Milan ownership change but in the mean time Juventus are a club who have a lot of interest in him.
Here is what his father Alfonso Donnarumma had to say on his son's future in an interview with
Sky Sport
:
" I have two great kids and I have a great understanding with both of them. I remember when Gigio first signed with Milan, he was so happy and this was a dream come true for him. Everytime I see him play at the San Siro I get very emotional. It was great to see him hug Gigi Buffon, all of the family cried. I wish both of them the best of luck , I am proud of them".