EXCLUSIVE: Juventus interested in Gladbach's Granit Xhaka, Zaza and Rugani staying put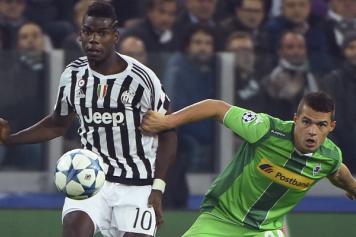 24 December at 10:46
What exactly are Juventus' plans for the winter transfer window?
With the returns from injury of Roberto Pereyra and Mario Lemina (fingers crossed), Juventus CEO Giuseppe Marotta has declared that nobody will join during the January window, and that, if anything, some will leave.
Then again, Marotta did add that the club was "keeping an eye on the players that it liked. Juventus-style players". We don't require the services of Bletchley Park to realize that the
Bianconeri
are as vigilant as ever, and that they could pounce if an opportunity presents itself.
Though a lot of recent talk has focussed on Borussia's Ilkay Gungogan, I have a scoop about a player who has a lot in common with him. I have found out in the past few hours that Granit Xhaka is in Juventus' sights. Though they faced him in this year's Champions League group stages, the
Bianconeri
have had him under observation for quite some time, ever since he was still an FC Basel player.
He is a metronomic passer, and a hard tackler (sometimes too hard) who sits in front of the defence. His long balls are powerful, and eerily accurate.
A long-time Inter transfer target before the
Nerazzurri
brought in another Swiss playmaker (Xherdan Shaqiri), Xhaka is 23 years old and, though he doesn't score much, he is the kind of player who can take pressure off the defence in more ways than one. Beyond his tackling, he keeps things ticking in the middle of the park by spraying the ball around in simple patterns.
Among the other things I've heard, I can confirm that Juventus are only considering Martin Caceres' [he of Fast and Furious fame] departure. Unlike a month ago, Daniele Rugani and Simone Zaza don't seem to be on the transfer block anymore (phew!).
There are two types of player that Juventus is generally interested in. We previously spoke of Gundogan, who belongs in the
regista
category. The Old Lady is also on the lookout for attacking midfielders.
Trouble is that Borussia are asking for €30 million for Ilkay's services, whilst Juventus can only go as high as 24 or 25.
With his contract expiring in 2017, Marotta may have to make his mind up quickly, as Bayern Munich like to do their summer shopping at the Signal Iduna, and Ancelotti is known to be a big admirer both of Gundogan… and Bernardeschi!
Ever Banega looks like a tall order, as he can't play in the Champions League (having faced Juventus too, this time with Sevilla) and because he isn't on a par with Ilkay.
Among the others (namely Sensi, Rabiot, Soriano and Moutinho), the
Juventini
are still lying in wait. Watch this space!
Andrea Bosco, translated by Edo Dalmonte @edodalmonte