Maradona calls Dani Alves a jerk and questions Sampaoli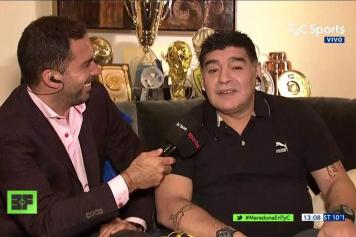 19 June at 21:01
Maradona is still against Dani Alves. No, on the field it is no longer possible, with El Pibe de Oro who has hung up his shoes long ago. But the words of the Argentine champion are always ready to say the truth as Diego sees it. The Brazilian in recent days said that former Napoli star has never been an example for children giving his preference to Lionel Messi.
Here's the response of el Pibe to TyC Sports. "Dani Alves is a jerk! Poveraccio, he puts in 28 cross and 4 are good. The right side was Cafù, Maicon, if we keep talking about this, I'm leaving. I say this because he plays in a zone on the field where you do not play football..."
ON ICARDI - Two words, then, also on Icardi and Sampaoli. "I'm angry with Sampaoli, the list made by Veron, and excluding Aguero to call Icardi is pure folly, rather I would call Benedetto. Veron makes the list from England, not from Argentina. In calling Icardi and to let him know the doctors of Argentina, so should have Benedetto been called. For me, they made a mistake. I really do not understand the list. Icardi has scored so many goals in Italy, but Pipita scored 36. Sampaoli? No one knows him, if he did not win the final with Chile, even his family would not know who he was. More than Bauza."