OPINION: Juventus have a way to go yet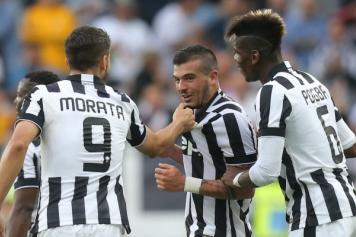 30 November at 19:28
The Juventus we saw come away with a 3-0 win at the Renzo Barbera has two faces. Far from being "back", this team has barely begun the long climb back. Though they dominated the first half, Juventus didn't play very well. Palermo's midfield is a necklace of fugazis with a diamond brooch (Vazquez), though Goldaniga (whom they got from Juventus in the Dybala deal) looks promising. They'll need to offer something else to get back to the form that saw them dominate four Serie A seasons in a row.
A big positive is Mandzukic's timing, turning up at just the right moment on the first decent cross he got to bury the ball past Sorrentino. It doesn't matter what he does, he scores, whether with his head, his feet, or his buttock for that matter.
Cuadrado, for his part, was all flash and no substance. Quite why Conte fell in love with this player is a mystery. All he did was bob and weave, trying feint after feint but never getting up to much. At least Lichtsteiner did what he was told, though his crossing was poor.
Sturaro is trending upwards. He plays with the determination and humility of a Furino, a Bonini, or even a Conte. The defence has also recovered, Palermo barely taking a shot on goal.
Pogba's yellow card is a problem in an already wafer-thin defence: as far as I remember, Khedira, Lemina, Hernanes, Pereyra and Asamoah are all out at the moment. Padoin may have to play, though thankfully he won't be a playmaker. Problem is, the role doesn't exactly fit Marchisio's profile, either.
Always happy to muck in, the Little Prince is a box-to-box midfielder. Allegri will have to get creative. The Livornese Coach did a good job managing the players he had at his disposal, getting his changes right. Zaza came on and scored, an encouraging sign for someone who is rumoured to be leaving in January, but who wants to prove he belongs.
Juventus may not have played an exciting game, but they defended with order, as provincial teams do. Can't remember a team playing like that winning the Scudetto.
Then again, this is a strange season, with every prediction being proved false. I hope Napoli win because of the quality of their football, though a draw wouldn't change much, still leaving Juventus seven points short of the leaders. If Mancini were to outsmart Sarri, however… Inter will have put a finger on the Scudetto.
If I were to play armchair manager for a second, I would suggest Allegri try a 3-4-3, with Marchisio and Sturaro in the middle of the park, Alex Sandro up front with Dybala and Mandzukic. It would be revolutionary, as would employing youngster Vitale in the midfield. At this stage, why doesn't Allegri play himself? He was a Number 10, and an elegant one, too.
It would be a pity to see this Juventus team be slowed down by injuries. Three points against Lazio would be a great way to keep up their pretences, and a draw against Sevilla enough to avoid having to face Bayern or Barcelona in the second round. The Champions League is a mirage as of now, but since when did the best team always win it? Then again, it's just hard to see anyone beating this Barcelona team right now. Anyone could get massacred at the Camp Nou, not just Roma.
Andrea Bosco, translated by Edo Dalmonte @edodalmonte