Revealed: Monaco star told Juve he could play there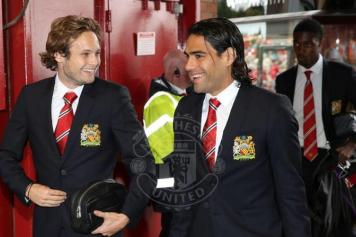 21 April at 15:25
Juventus came very close to Radamel Falcao two years ago, we can confirm.
It is a rather topical development now that Juventus get to face Monaco in the Champions League semi-finals, the recent draw in Nyon pairing the two sides up alongside rivals Real and Atletico Madrid.
Though he ended up choosing Manchester United, the Colombian star, who was playing for Monaco at the time, was grateful to Juventus.
"Thanks for everything. It would have been an honour to play for Juventus, it may happen in the future!",
he texted to director of sport Giuseppe Marotta.
Though he was a flop in the Premier League (which included a loan to Chelsea, too), the Colombian is back to his best in France, scoring two identical free kicks against Dijon last weekend to add to the goal he scored against Borussia Dortmund in midweek.
He's not the only player Juventus are scouting among their Champions League rivals, with Fabinho and Bernardo Silva (six goals, nine assists in all comps) also long-term Juventus targets.
According to our sources, the Bianconeri will talk with their opponents after the semi-final about the chances to sign Fabinho, and are also set to make a bid this summer for Silva.