Sneijder: 'I want to stay here at Inter for long time'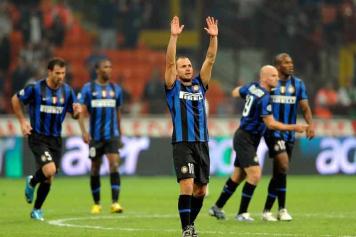 13 September at 19:03
In the run up to the Champions League match against Twente, Inter ace Wesley Sneijder, said in a press conference: "
"I know Twente well, they are Dutch champions and they will be highly motivated, they will want to win in front of their fans but we have come here to win the three points, They are a good team and they will definitely try to make it difficult for us, but we obviously want to show our qualities and get our first victory in the group".
Then he added: "Every season starts from scratch. We had a few problems against Atletico Madrid and Bologna, but we are up and running again. We won against Udinese and things are going much better. Motivation isn't a problem: I said that we are starting from zero with the same great desire to win everything again. For me it's special to play here in Holland and when I watch the Dutch league I follow Twente. They will certainly have the support of their fans but we have our qualities and strategies, and we're focused on winning this match."
Back to the domestic football scene and Ibrahimovic's transfer to AC Milan, Sneijder commented: "I know him well. We met at Ajax, and in Italy he did very well before going to Barcelona. It would have been nice to play with him. I like him as a person and a player, but now he's a rival."
Finally, Sneijder revealed that a deal is being thrashed out to keep him with the Nerazzurri for the long term. "We're negotiating and I hope a deal is concluded quickly because I really to want stay at this club for a long time to come."
L.T.