'Speculator' arrested over Borussia Dortmund bus attack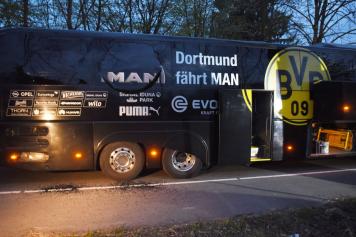 21 April at 10:44
German Police have arrested a man suspected of
being responsible for the bombing on Borussia Dortmund team bus on the 11th of April
ahead of the Bundesliga giants' home quarter final Champions League clash against Monaco.
According to several reports, Sergej W was arrested on his way at work on Sunday morning and was accused of
having carried out the attack. Sergej W. had bought a put option on Borussia Dortmund's shares on the day of the attack
, which means he could decide to sell for a difference price and at a determined date.
The suspected attacked reportedly wanted a huge drop in Borussia Dortmund's shares killing a player or a team member of Borussia Dortmund. According to German media, Sergej W bought
15.000 put warrants for € 78.000 and could have gained almost € 4 million as a result of a large drop of Borussia Dortmund's shares.
​Police had initially thought the attack could have been carried out by Islamic terrorists and arrested
two suspects who were thought to be linked with the attack.
A few days after the arrests, however, it emerged that people arrested had Islamic terrorist links but had nothing to do with the attack on the team bus of Bourssia Dortmund.