Yonghong Li is like Berlusconi: now everyone want Milan. And that no from Morata...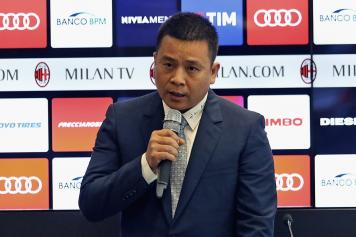 17 July at 09:00
Milan have been incredible on this transfer window as they have already acquired 10 new players as they have spent over 200 million euros (total). This is how Yonghong Li alongside Marco Fassone and Massimiliano Mirabelli presented themselves to the Milan fans and the crazy thing is : we are still only in July.
LIKE BERLUSCONI - Silvio Berlusconi took the world of football by surprise when he invested heavily in Milan (1986-87) as he completely changed the look of the team. Yonghong Li is now trying to do the same thing as the new Milan have invested heavily on the transfer market as they signed a slew of quality signings (Rodriguez,Conti, Kessie, Biglia, Bonucci, Calhanoglu, André Silva etc...). Mr. Li knows that results will need to follow as he brought back credibility to Milan... .
MORATA'S NO - Milan have returned to being an attractive side for top players which wasn't the case since 2010 (when Ibrahimovic and Robinho joined the club). Milan had interest in Morata but he had initially preferred to join Manchester United instead. Since a deal has now failed to happen and Mourinho's club signed Lukaku instead, the Spanish international now seems to have gone back on his initial idea as he would certainly accept a move to Milan. Fassone did recently state that Milan would love to sign a top end striker as they have been following Belotti, Aubameyang and Morata. With Bonucci and Biglia's arrivals, Milan showed everyone that they are for real as Morata is now an option too for the club...
By @Albri_Fede90, adapted and translated by @CalcioNews89