2016 Fifa Team of the Year: The candidates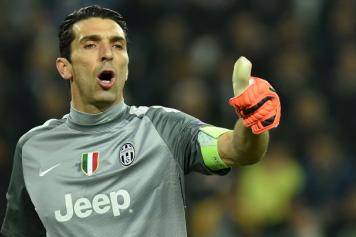 01 December at 14:46
Football's governing body FIFA, have announced a shortlist of 55 players for their 2016 team of the year. It makes sad reading for Serie A with Juventus the only team represented from the peninsula. Only four Italian players have made the shortlist; Gigi Buffon, Giorgio Chielini, Leonardo Bonucci and Marco Verratti. The list in full:

GOALKEEPERS: Claudio Bravo (Chile/Barcelona/Manchester City), Gianluigi Buffon (Italy/Juventus), David de Gea (Spain/Manchester United), Keylor Navas (Costa Rica/Real Madrid), Manuel Neuer (Germany/Bayern Munich).
DEFENDERS - David Alaba (Austria/Bayern Munich), Jordi Alba (Spain/Barcelona), Serge Aurier (Ivory Coast/PSG), Héctor Bellerìn (Spain/Arsenal), Boateng (Germany/Bayern Munich), Leonardo Bonucci (Italy/Juventus), Daniel Carvajal (Spain/Real Madrid), Giorgio Chiellini (Italy/Juventus), Dani Alves (Brazil/Barcelona/Juventus), David Luiz (Brazil/PSG/Chelsea), Diego Godín (Uruguay/Atlético Madrid), Mats Hummels (Germany/Borussia Dortmund/Bayern Munich), Philipp Lahm (Germany/Bayern Munich), Marcelo (Brazil/Real Madrid), Javier Mascherano (Argentina/Barcelona), Pepe (Portugal/Real Madrid), Gerard Piqué (Spain/Barcelona), Sergio Ramos (Spain/Real Madrid), Thiago Silva (Brazil/PSG) e Raphaël Varane (France/Real Madrid).
MIDFIELDERS- Xabi Alonso (Spain/Bayern Munich), Sergio Busquets (Spain/Barcelona), Kevin De Bruyne (Belgium/Manchester City), Eden Hazard (Belgium/Chelsea), Andrés Iniesta (Spain/Barcelona), N'Golo Kanté (France/Leicester/Chelsea) Toni Kroos (Germany/Real Madrid), Luka Modrić (Croatia/Real Madrid), Mesut Özil (Germany/Arsenal), Dimitri Payet (France/West Ham), Paul Pogba (France/Juventus/Manchester United), Ivan Rakitić (Croatia/Barcelona), David Silva (Spain/Manchester City), Marco Verratti (Italy/PSG), Arturo Vidal (Chile/Bayern Munich).
FORWARDS - Sergio Agüero (Argentina/Manchester City), Gareth Bale (Wales/Real Madrid), Karim Benzema (France/Real Madrid), Cristiano Ronaldo (Portugal/Real Madrid), Paulo Dybala (Argentina/Juventus), Antoine Griezmann (France/Atlético Madrid), Gonzalo Higuaín (Argentina/Napoli/Juventus), Zlatan Ibrahimović (Sweden/PSG/Manchester United), Robert Lewandowski (Poland/Bayern Munich), Lionel Messi (Argentina/Barcelona), Thomas Müller (Germany/Bayern Munich), Neymar (Brazil/Barcelona), Alexis Sánchez (Chile/Arsenal), Luis Suárez (Uruguay/Barcelona) and Jamie Vardy (England/Leicester City).


Steve Mitchell @barafundler