AC Milan, Calabria: 'Juve not unbeatable. There are no problems with Higuain'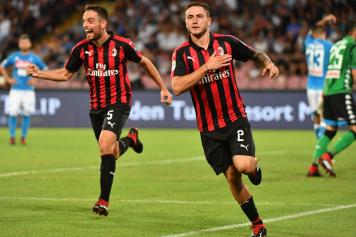 10 January at 17:20
AC Milan defender
Davide Calabria spoke to Sky Sports
and addressed various topics, from Paolo Maldini to his teammate Gonzalo Higuain, who has been surrounded by many market rumours in the past weeks.
"I think this is the best moment of my career. 2018 was important, I played a lot of games and I found great continuity. I have to thank Gattuso for the confidence he gave me," he said.
"Maldini? He has always been my idol. Knowing that he is there on the sidelines watching the training makes me always try and give 100%.
"Juventus? It will be difficult, but not impossible to beat them. This year they improved again, so it will be even more difficult. However, they are not unbeatable, we have already demonstrated that in Doha two years ago. The game starts from 0-0. We will give 100%.
"Higuain? When he arrived. I immediately told my agent that I had never seen a striker so good. It is always better to have one like him in the team rather than against. He lives for the goal and when he does not score he can be depressed but he has always scored in his career. There is no Higuain problem," Calabria concluded.