AC Milan coach Gattuso: "Abate's fault Brignoli scored"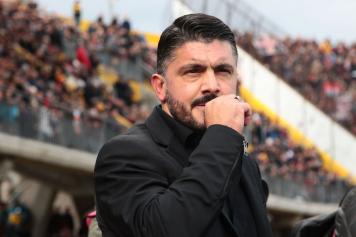 06 December at 21:00
AC Milan coach Gennaro Gattuso held a press conference ahead of tomorrow's concluding Europa League group stage fixture against Rijeka.
Gattuso began by stressing the importance of tomorrow's fixture stating that it is a "match is important to us, not considering the standings, but on the psychological level. We need an important result. The ones who have not played so much this season will have the opportunity tomorrow. I want to see desire. It's an honour to play an international competition with the AC Milan jersey, and the players must feel the same. They have to work hard and bounce back. Today we prepared for this match considering the players who will be available."
Then the former OFI Kreta and Pisa coach focused on tomorrow's opponents stating that: "It's a team that reflects the character of their coach and their fans. They are technically very strong, they like to build-up the play from the back, and avoid clearing the ball. They tend to attack through the wings and get numbers up front, also their individuals are good, they play good football. Misic and Braderic are talented, but they are injured. They still have other important players. Their fans are very enthusiastic and don't make it easy to play at their stadium. I'm looking forward to playing this match. I could have brought some of the players from the Primavera side but I did not want to underestimate the opponents. I hope we play a good match."
In conclusion Gattuso spoke about individual Rossoneri players stating that: "Paletta represents the real AC Milan player, who trains with intensity and desire. He will start tomorrow. I saw him well, he trains well and it's fair to give him some minutes. Biglia has to improve, he is not at his 100%. Tomorrow he will play, as well as Locatelli. We are not very well on the physical level, but there are no consolations. We know we have to improve. Some of the signings have not yet reached their full potential, Kessie and Kalinic for instance. They are not playing as well as last year but we are all working hard to step up and I am positive we will get there. The goal conceded was Abate's fault as he took a step forward, maybe he could have gotten the ball. We use zonal marking and not man-man marking."
Nima Tavallaey Roodsari (@NimaTavRood)