AC Milan coach Gattuso furious: "Andre Silva must respect AC Milan shirt"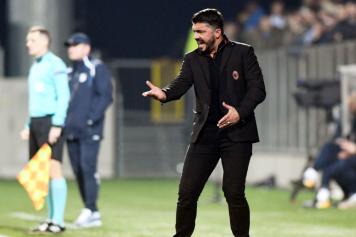 07 December at 21:30
Aftre having suffered their first defeat in the history of the club against a Croatian team when losing 2-0 away against HRK Rijeka, AC Milan coach Gennaro Gattuso was furious when speaking to the press.
Gattuso claimed full responsibility explaining that "the fault of this is all mine. However, I have a feeling that on a mental level this team are not able to react. When something negative happens, we disappear. I tried to give an opportunity to some of the players who haven't played much, but it didn't work. We have players here who need minutes, and we did not come here to lose."
Despite this the former Pisa coach then turned to criticising single players, expecially summer signing Andre Silva saying that "We all know his value, and he scores plenty for his national team, but when you play in cup competitions with Milan you have to contribute more. He looked like an outsider and foreign body in our team. When you wear the shirt of Milan you have to respect it."
Nima Tavallaey Roodsari (@NimaTavRood)