AC Milan coach Gattuso to Buffon's girlfriend: "Give him a kiss with tongue from me"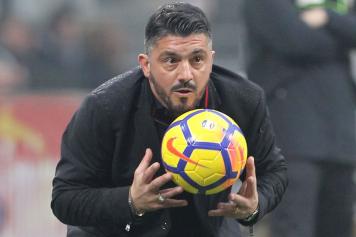 29 January at 09:30
During the post match interview with Sky Sport Italia, after Milan had defeated Lazio 2-1 at the San Siro, Rossoneri coach Gattuso decided to joke with Ilaria d'Amico, who works as a TV presenter on Sky Sport and is also Giggi Buffon's girlfriend.
The former Pisa and OFI Creta coach began by asking d'Amico if she had given Buffon his birthday present yet whilst laughing. A blushing Ilaria d'Amico laughed before Gattuso continued: "It wont be valid after midnight. You women are special.
"When you turn 40 you want three tiny diamond rings then you want six diamond rings when you turn 50. Give him a kiss on the mouth from me with tongue, he has been very lucky Giggi" Gattuso concluded.
AC Milan's win takes them up to seventh place in the Serie A, ten points from the fourth spot which secures a place in next season's Champions League. The fourth spot is currently being held by cross town rivals Inter. If AS Roma win tonight at home against Sampdoria they will equal the Nerazzurri's point tally but will remain in fifth due to having lost and drawn in their meetings with Inter.