AC Milan: Donnarumma brushes off costly errors vs. Juventus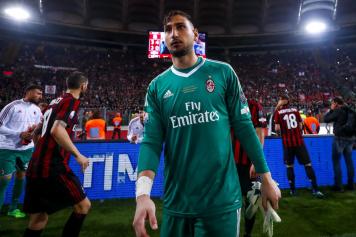 11 May at 20:00
Gianluigi Donnarumma spoke to AC Milan's official website earlier today, vowing to move on from his two costly errors during Wednesday night's 4-0 defeat at the hands of Juventus in the Coppa Italia final.
Here is what he had to say
:
"Surely, we are all very disappointed. We really wanted to win this game. We are sorry for not succeeding, but we must look forward as we have two important matches to play – we must do well in both of them.
"This is the life of a goalkeeper. Mistakes can happen, but I want to move on. Disappointment is normal, but we must move forward because we have two very important games to go. We must play in Bergamo with a great desire to do well and respond. I think we are all pumped to do well. I saw the boys in the dressing room this morning and you could feel the positive energy."
Jordan Russell (@JordRuss96)