AC Milan, Gattuso met with Mirabelli: the latest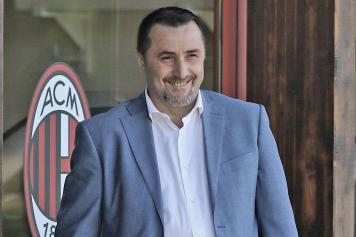 29 October at 20:48
Milan had a huge summer as they invested over 200 million euros on 11 new players (Donnarumma, Conti, Musacchio, Leonardo Bonucci, Ricardo Rodriguez, Kessie, Biglia, Calhanoglu, André Silva, Kalinic and Borini) but even so, they are struggling a lot of late. Montella's position is in doubt as Milan lost 4 out of their last 6 games (to Sampdoria, Roma, Inter and Juventus). Their only win came against Chievo Verona as they also drew Genoa at the San Siro within this spand.
MIRABELLI MEETING WITH GATTUSO - Here is what Rino Gattuso had to say about his meeting with Mirabelli in an interview with
Milannews.it
: " It was a pleasure to meet with Han Li and Mirabelli today, I didn't even know that they would be coming. With Mirabelli we talked about the game, he told me that he saw many improvements within our youth players. We also had a discussion on the cancelled goal but that's about it. First team?
Don't get any ideas about this, we only talked about the primavera side...
".
Montella's future remains in heavy doubt as Milan will continue with him for now. If they do decide to let him go, they can hire a new coach (like Sousa for example) or they can promote Gattuso up until the end of the season. This second option would allow them to then look for a bigger fish come summer time...
Jean-Luca Mascaro (@CalcioNews89)