'AC Milan have no intention of letting Higuain leave to Chelsea'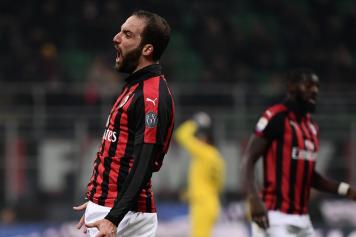 10 January at 16:20
There have been many rumours surrounding Gonzalo Higuain and his possible move away from AC Milan to Chelsea, however,
as reported by Sky
Sport
journalist Gianluca Di Marzio
, this does not seem to be a likely scenario.
"Marca came out with an article about Higuain's imminent transfer to Chelsea, but we have not found any evidence on this, confirming that Sarri would like the player but that today Chelsea has not made a decision on the investment," he said.
"Moreover, Milan has no intention of letting the player go because it would be difficult to replace him. Milan would not make money from the sale of Higuain. To date, Milan knows that Higuain had some 'stomach ache' but they made him understand that he will stay and must play and take responsibility.
"It is clear that Juventus would have an interest in doing the operation with Chelsea but only if Chelsea redeemed him at the end of the season. But to date, there are no signs in this sense," Di Marzio concluded.