AC Milan-Parma 2-1 Player ratings: lethal Cutrone, what a match from Bakayoko!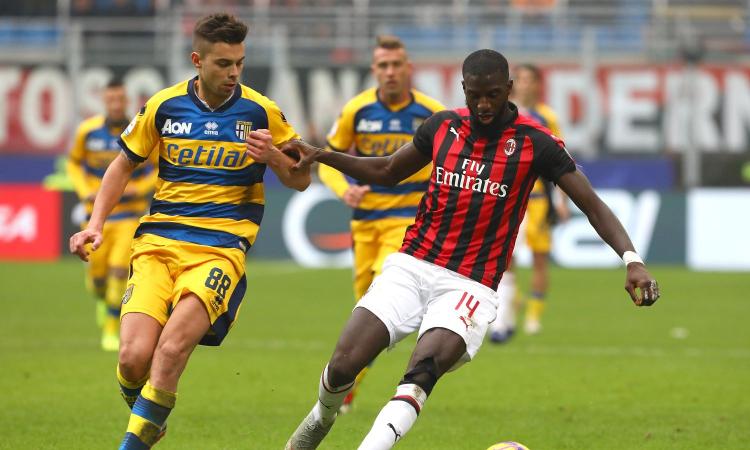 2018-02-12 - 16:05
AC Milan-Parma 2-1
G. Donnarumma 6:
innocent on the goal scored by Inglese.
Calabria 6.5:
puts the turbo on his side.
Abate 6.5:
plays as a veteran of the role, despite being his first as a central defender. Nothing wrong.
Zapata 6:
has an uncomfortable client like Inglese and he controls him rather well.
Rodriguez 6:
better in defensive phase, less proactive in attacking.
Kessié 6:
takes charge of a very heavy penalty, so thanks to him. But he makes a mistake on Inglese's goal.
Mauri 6:
dynamic and precise, he comes out when Milan goes under. (From 52'
Borini 5.5
).
Bakayoko 6.5:
sumptuous master of the midfield. Player totally rediscovered.
Suso 6:
takes a few shots on goal. Precious in doubling, he puts himself at the service of the team. (From 88'
Castillejo
),
Cutrone 7
: scores a great goal, the third in this campaign. He gets a penalty kick.
Calhanoglu 6:
discontinuous but precious.
Gattuso 6.5:
he optimizes the game is first, choosing the defense at 4.
Parma
Sepe 6:
he opposes very well on Suso in the first half.
Iacoponi 6:
keeps a good watch on Calhanoglu.
Bruno Alves 6:
despite the age is still a reliable defender.
Bastoni 5:
wrong reading the different situations of the game.
Gagliolo 6:
great physique and good reactivity, against Suso does not disfigure.
Grassi 6:
the intensity is good, the quality much less. (From 82'
Ceravolo
no rating)
Scozzarella 6:
as long as he has fuel, he does well. (From 78'
Stulac
no rating),
Barillà 6.5:
misses an easy goal but is man everywhere in the Parma midfield.
Biabiany, 5.5:
sprint often, but sees the ball a little. Smoky.
Inglese 6.5:
lethal in front of the goal.
Gervinho 5:
he is not at his best. (From 62'
Ciciretti 5.5
:)
D'Aversa 6:
his team is well placed on the pitch, especially in the defensive line.