AC Milan, Piatek praises Giampaolo and reveals his seasonal objective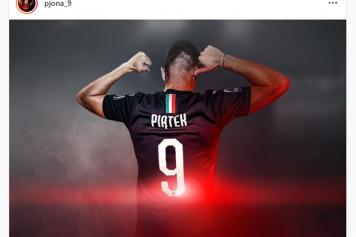 26 July at 09:30
Krzysztof Piatek spoke in a long interview to Gazzetta dello Sport
about the upcoming season, the number 9 shirt as well as the new coach Marco Giampaolo and his football ideas.
"How happy I am to wear 9 from 1 to 10? Eleven. I'm happy to have it on my shoulders. 9 is an important number for a striker, all the best ones have it. Lewandowski, Suarez, Benzema, Kane. I am happy because the club believed in my qualities. They told me I should have earned it and I said I would fight with all my strength to have it. The curse? I do not believe in superstition. Everything will be fine like with 19, you will see," he said.
"Giampaolo? He is a football master, I confirm it. At a tactical level, every detail is fundamental for him and he spends a lot of time explaining in training. For me, it is a good thing. He has good ideas in terms of the game. I like the 4-3-1-2 because it gives many offensive solutions.
"In Italy, I have already four coaches, he is the fifth and he is tactically the best. He has many ideas and all are clear. Gattuso? He is a legend and also a slightly crazy character, as a coach and as a player. He loves Milan and would die for the club. He took on many responsibilities and came to the end tired and drained.
"Last season was a great season for me. This one will be different because there is a new coach and a new game system. I am interested in staying focused on this because I want to find myself ready. The main goal is to play in the Champions League and the biggest regret is not to have succeeded.
"The last two months of the season were difficult. For me and for the team. We didn't play well. We were too tired. The defeat in the derby changed our mentality a bit.
"My goals for the future? For me, it is a pleasure to play here. There were many legendary players here and I want to get closer to their level because Milan is a club that has it all to win the Champions League but first we need to get there, after which everything is possible.
"We have to start the league strongly. No Europe this year? It is not a good thing but I remain focused on the next goals. We have a great team and a new formation. Future? I am a person who does not think much about the future. Now I am here in the US, focused on the present. However, as I said, my goal is to play in the Champions League and maybe win a trophy, as well as in the national team, which is going to play the European Championship," Piatek concluded.