AC Milan, Reina: 'Higuain is one of the best in the world'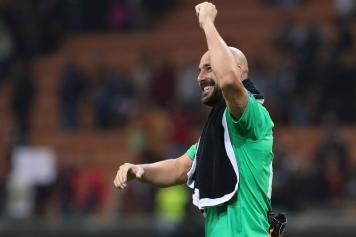 30 November at 20:00
The day after the victory of AC Milan against Dudelange in the Europa League,
Pepe Reina
talked to
Sky Sport
.
ABOUT HIS ROLE "When you are used to playing in your career, you accept the role of second goalkeeper but it's different. As a real professional, in training I give everything for myself and to help the growth of Donnarumma, to make him even stronger. His moment has arrived, he needs to be able to give regularity, make mistakes as little as possible and bring many points to the team in Serie A. We are here to help him, we must never forget that he is 19 years old, even if he has been in football for years, we need a balance in judging him ".
GATTUSO - "His growth is already going faster than Sarri: Maurizio came from below, he lived the real Sundays of provincial football and then reached very high levels. The personality is similar for both, humble people who know how to fight ".
HIGUAIN - "He has some back problems, when he will be fully fit, with that hunger I see every day, there will be no room for any doubt for people who speak badly of him. He is not only one of the best players in Italy but in the world, now it's up to him to demonstrate it in the field and bring us to our goals "
GROUP - "The group is stronger than any coach, company or manager: the team wins together and loses together, overcome the difficult moments then it becomes stronger and stronger. if we pass this then pay attention".
SCUDETTO - "Sorry to say that, but there is only one favorite: Juventus, and the anti-Juventus are the Bianconeri themselves, but if they keep obtaining these results, they'll win Serie A in April".
PERSONAL OBJECTIVES - "I hope to get in the first four places in Serie A and raise a few cups".
Mirko Laurenti