AC Milan's UEFA issues: What we know so far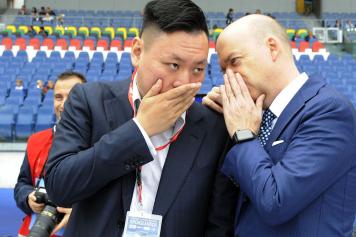 25 May at 21:56
After UEFA decided not to grant AC Milan a settlement agreement, many have wondered exactly how this will affect the Rossoneri. However, as confirmed by Fassone today, this doesn't change much in terms of the plans already made.
With that said, UEFA are still well within their rights to punish Milan with some methods, all of which have been discussed in detail
here
. To name a few, UEFA could decrease the number of players that Milan are allowed to register in Europa League, or potentially block them from registering players signed over the summer.
Furthermore, in the worst case, they could be excluded from the Europa League, which wouldn't be ideal for any of the parties involved. However, they don't have the ability to put a transfer ban on the club, which some has suggested, as that action is carried out by FIFA.
As stated before UEFA's decision, Milan are still looking to bring in 3-4 players this summer. Having already secured Reina and Strinic on free transfers, the San Siro side would also like to strengthen their team in two, if not three more positions.
First off, Milan are looking to sign a 20-goal striker for Gattuso, as this term proved that are goalscorer is lacking. 20-year-old Patrick Cutrone carried a lot of weight on his shoulders this season, but did really well under the circumstances, bagging 18 goals and becoming the Rossoneri's top goalscorer of the season.
However, it's evident that this won't be enough to compete at the very top, therefore, Fassone and Mirabelli have set their sights on several strikers, mainly Immobile. It seems the striker is looking for a new opportunity, with both him and his wife leaving cryptic messages on social media as well as in interviews. Furthermore, Milan have taken important steps in the negotiations for the player, as reported by today's edition of La Gazzetta Dello Sport.
The San Siro side's budget could take a blow, however, should UEFA decide to exclude them from the Europa League. AC Milan received around €6-8m for their participation in the cup this season, while cashing in over €10m on ticket sales. Fassone confirmed this small blow during his interview with reporters today.
"Taking the worst scenario, with Milan getting excluded from the cups, there will be a decrease in turnover that I should take into account on expenses," The Milan CEO told reporters.
Then, it remains to be seen if the Rossoneri's fourth signing will be a midfielder or a winger, both of which they are in need of. One likely outcome is that Milan decide to sign a winger while bringing in Fiorentina's Milan Badelj on a free transfer for the midfield. Another name mentioned in the media is Napoli's Alberto Grassi, who would be available for around €7m.
In terms of wingers, Milan have been linked with the likes of Callejon and Politano. The former has a release clause valued at €20m while the latter could be signed for a fee of €25-30m. The Sassuolo winger, Politano, would also be ready to play on both sides, potentially alternating between replacing Calhanoglu and Suso. Callejon, on the other hand, almost never plays on the left side of the pitch.
To summarize, UEFA's decision could, of course, vary in terms of how much of a blow it will be for the club. However, reading between the lines of Fassone's interview, the punishment certainly won't be as tough for the club to handle as some thought. With that said, though, exclusion from the Europa League would certainly damage the image of the club.
Isak Möller (@Isak_Moller)