AC Milan short of strikers; Borini an emergency solution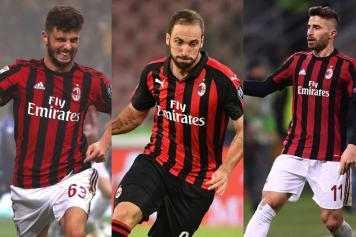 13 September at 19:15
We are just two games into the season, but Milan fans have already raised their eyebrows regarding the Rossoneri's striker department. It is arguably very strong with Higuain and Cutrone leading the line. However, it has one evident flaw.
In fact, Milan will be competing in three competitions this season, and thus their schedule is very much packed. Therefore, having only two proper strikers at Gattuso's disposal will pose a risk, should any of them get injured.
This is now the case, as Cutrone has picked up an ankle injury while on international duty. With that said,
he's at risk for the game against Cagliari
on Sunday, meaning Higuain will be the only striker available.
In terms of depth, this is a major issue for Gattuso's men. Former Liverpool man Borini has taken on the role as the third striker, having played in that position while at Roma and Sunderland. However, he arguably lacks the great quality that both Higuain and Cutrone possess.
Isak Möller (@Isak_Moller)