AC Milan star makes surprising claim on Chelsea striker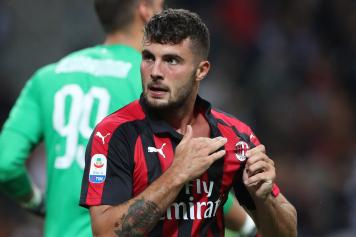 25 September at 10:25
AC Milan star Patrick Cutrone spoke to
Radio 105
on Monday night making a surprising revelation on Chelsea striker Alvaro Morata.
The former Juventus star joined Chelsea from Real Madrid in summer 2017 and despite his recent poor form, Morata remains one of the most exciting strikers in Europe.
"My idol was Pippo Inzaghi", Cutrone said.
"Recently I've also admired Morata. He was very young at Juventus but he proved to be a very strong striker."
Cutrone was also asked how it feels to train every day with Gonzalo Higuain: "Everybody knows how strong he is. I try to learn something from him every day. We are on very good
terms and there is a lot of competition also during test matches in training. Maldini? I was nervous the first time that I spoke to him but now things have changed.
He always helps me with some important suggestions."
"I am recovering from my injury right now. When I don't play I become nervous but I am only focused on the present. I can do well, I train every day to improve.
I can score more than 10 goals per season. Playing for AC Milan is a dream came true.
I thought I could be part of this team when I scored against Bayern."