AC Milan v Udinese countdown: Montella press-conference highlights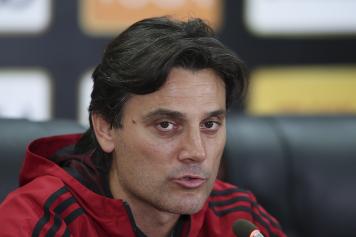 16 September at 13:00
Milan boss Vincenzo Montella has been speaking ahead of Sunday's home game against Udinese knowing his side must bounce back from last weekend's humbling in the capital against Lazio.

He began however, by giving an update on the injury to Andrea Conti, stating that; "Today he has undergone an operation, yesterday was a really sad one but I believe the operation has been a success and I'm sure the boy will return better and stronger".

ON UDINESE: "Before every game I think the same. The unique objective is to win the game and although we have had less time to prepare after playing in Europe on Thursday I expect the squad to have the same hunger".

ON A THREE-MAN DEFENCE: "I think you are giving too much importance to this, we have often played in a similar manner".

ON THE EVENTS IN ROME: "The team understands what happened and now I want to see the real Milan that thinks only to victory".

ON SUSO: "Is he a problem? Absolutely not. He is an important player who can always be decisive and he will be again this season. I have to rotate the squad and everyone will be involved and this is not a bad thing".

ON ROMAGNOLI: "He is our only naturally left-footed defender and although its not fundamental in a three-man defence it is important to have a central defender who is confident with his left foot".

ON THE APPROACH: "I want to see a team hungry because you cannot always win with the tactics. We want a positive environment and we only think of victory. Sometimes I want to win ugly and I hope the team recognises this".