Agent: 'Calabria has received offers from big clubs but he wants to play for AC Milan'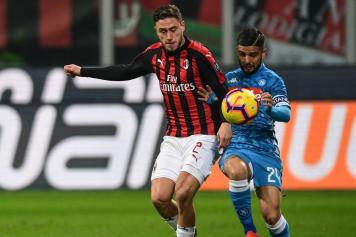 28 January at 13:50
Davide Calabria's agent Gianni Vitali spoke to Milannews.it
about his client and the match between Napoli and AC Milan during the weekend.
"Calabria against Napoli? It was an extremely positive game. For me, it is not a surprise. I think Davide is in continuous growth. He is doing excellent things, he is a player of great reliability, consistency, efficiency, drive and personality. He is doing well, he must not stop being what he is, a boy with clear goals in mind and great desire to work and improve," he said.
"There are two factors that lead a player to grow in general, and in particular Davide. The first is mental predisposition to set goals, to understand their limits and try to improve in the areas necessary. The second is a great gift that he inherited from his father and his family, that of being a hard worker.
"In addition, he is fortunate to be in a group with a technical staff that makes you work. In this Gattuso, who is a very humble coach, who always puts the team in front of everything, has merits because a player can only improve if he is prepared, if he wants to work and if he works well.
"Interest in Calabria? We have received interesting phone calls but at the moment Davide is focused on Milan and we have not considered anything, despite having received calls from very important teams. Davide shows the desire to stay with these colours on the field," Vitali concluded.