Agent of Bacca; "Interest from all over Europe. If the right offer is tabled...."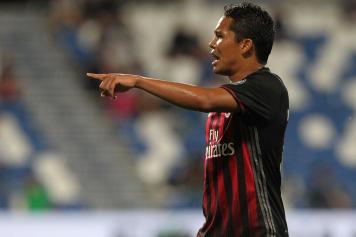 27 October at 21:39
He may not have scored for the past three games but Colombian striker Carlos Bacca remains one of the certainties in the Milan line-up despite Tuesday night's defeat to Genoa. Six goals from the first ten games of the new campaign, proves the 30-year-old is still an in-demand striker. West Ham United tabled a €30 million bid last summer which was accepted by the rossoneri, but not by the player himself and then there's PSG, a move that would see Bacca re-united with former Sevilla coach Unai Emery.

The players agent, Sergio Barila, has been speaking to Colombian journal El Heraldo and he explained that; "Carlos is one of the best players in the world. He's scored in Colombia, Belgium and Spain and also in Italy. He's a player that I receive many phone calls asking about his availability". When asked what he thought his client was worth he replied; "Last summer €30 million was offered and now Milan would need a proposal higher than that".

He finished by stating that; "Bacca has caused interest at all the big European clubs but for the moment he's happy in Milan. However, if we were to get an offer that would be interesting to him and his club, the situation could change".


Steve Mitchell @barafundler