Agnelli: 'A great pride to have Ronaldo at Juventus'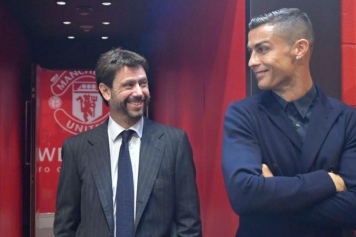 25 October at 11:20
During the Juventus shareholders' meeting, many topics were discussed by the
Bianconeri
management. From the outgoing director Giuseppe Marotta to his replacement but also on-the-field matters such as the arrival of Cristiano Ronaldo at the club last summer,
which chairman Andrea Agnelli described as a 'source of great pride'.
"Knowing that the strongest player in the world chooses Juventus is a source of great pride," he said.
"I have always supported and continue to support the team, but to have the best ones in each role makes the difference and helps to achieve the goals set. Ronaldo will help us but today's results, in October, are still far away from those we want to achieve in May," Agnelli concluded.
After a goalless start to his Juventus career, Ronaldo has returned to his best form and is now impressing fans in Serie A, as he did previously in the La Liga and Premier League. The Portuguese striker has scored 5 goals and assisted the same amount in 11 matches across all competitions for his team.