Agnelli reveals details about Allegri's future before decisive face-to-face meeting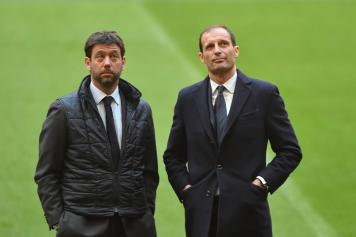 15 May at 10:00
Now it's up to them, Andrea Agnelli and Massimiliano Allegri. The Juventus president has talked to both Fabio Paratici and Pavel Nedved and he knows exactly their point of view, on everything. On the confirmation of Allegri, on the potential transfer market deals, on the names of potential replacements.
Agnelli is now preparing to meet the manager once and for all before making any final decisions. Anything can happen and the Bianconeri president gave a small indication on the possible future of the former AC Milan manager at the club during the Cuore Bianconero event, responding to a fan: "Allegri will stay but it depends on him". This was reported by
Gazzetta dello Sport
.
It can happen that Allegri will remain in his place but under what conditions? The first, more delicate, is linked to the renewal of the contract. It is not in Juve's plans to start the season with a coach in expiration but Allegri's requests may not be accepted. Confirmation without a renewal would defer the solution maybe only for a few weeks and not necessarily for an entire season.
It is not a question of salary but of planning. Allegri wants to revolutionize the team, while an influential part of the management would like a coaching change, while Agnelli does not seem to be on the same line.
If Allegri were to give ultimatums on his own terms, then the renewal that Agnelli, in any case, seems willing to offer him, may not arrive.
If Allegri leaves, the best solution, at least according to Nedved and Paratici, would be the return of Antonio Conte. Perhaps only the departure of Allegri could make the club re-evaluate the refusal of a return of the manager to the Allianz Stadium.
There are alternatives, even if they do not fully convince, however, there could be a development in favour of the Bianconeri, with Manchester City's potential Champions League disqualification that could free Pep Guardiola or a Champions League win that would unlock the 40 million clause in Mauricio Pochettino's contract. But first of all, it is time for Agnelli and Allegri to meet to discuss the future.
Nicola Balice. Translated by Nikita Fesyukov