Ajax Sporting Director Overmars rules out transfer to Napoli for Younes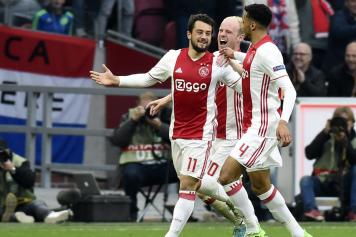 11 January at 10:00
Napoli's search of a winger is no secret as reported widely. Bologna's Simone Verdi remains the Partenopei's first choice who are waiting the player's response which should arrive by the end of this week.
The Partneopei have, however, lined up a few back-up alternatives should Verdi decline with FC Barcelona winger Gerard Deulofeu being widely reported as the first alternative.
Napoli have however already wrapped up the transfers of Benevento's Ciciretti as well as Ajax winger Younes with rumors floating that the Partenopei are trying to bring him to the club during this transfer window.
Ajax Sporting Director Marc Overmars has ruled out this possibility in an interview with Voetbal International stating that: "Younes is only 24 but already an expert and knows what is required of him and it is clear that he wants to take a step forward in his career. Our priority is however the sporting aspect of our club and we will not let him leave now, full well aware that we can lose him at the end of the season for free."
Nima Tavallaey Roodsari (@NimaTavRood)