Aleksandr Golovin shines on World Cup debut – what he would bring to Juventus, Chelsea or Arsenal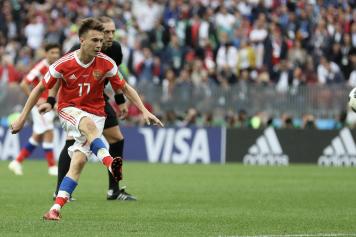 14 June at 19:15
The World Cup has well and truly kicked off, with Russia claiming a huge 5-0 victory over Saudi Arabia in the opening fixture.
One of the players behind the hosts' bright start is 22-year-old CSKA Moscow midfielder Aleksandr Golovin; a name wanted by the likes of Juventus, Chelsea and Arsenal. He picked up two assists and a goal as Russia got the World Cup off to a flying start.
So what can we learn from Golovin's first game in the 2018 World Cup and how exactly would the Russian fit in at any of the above clubs?
Firstly, Golovin is extremely versatile and although primarily a central midfielder, he can be deployed on either of the wings and even as a central forward. This makes him a valuable asset; able to fill in wherever he is needed.
Golovin has a tendency to make huge attacking strides when coming out of his defensive half and transitioning into the attack. This allows him to create space for himself, allowing him to fashion a chance for a teammate, or even go it alone.
Aleksandr Golovin is a talented passer of the ball and is instrumental in pulling the strings for both Russia and CSKA Moscow. From his two assists against Saudi Arabia, you can identify a player who is selfless and will often opt to set up a teammate when he can.
His shooting is impressive, as evident from his free-kick to close Russia's scoring, which makes him not only an integral part of the midfield, but vital to the attack also.
Juventus
As Claudio Marchisio is reportedly a target for a number of clubs and as Juventus search for a more cost-efficient midfielder in response to Lazio's demands for Sergej Milinkovic-Savic, Golovin could fit quite well at Juventus.
Golovin's attacking qualities would make him a strong addition to Juve's squad, yet his determination to track back whenever possible would also be keen for the Turin-based club.
Golovin's dribbling and technical skill make him well suited to Serie A football and the young Russian would take no time to settle into his new club.
Chelsea
Whilst Chelsea have the strength of N'golo Kante in midfield, primary playmaker Cesc Fabregas is now 31-years-old and Golovin could be the perfect long-term replacement.
As Golovin is just 22, he has a lot of time to develop and the Chelsea set-up would surely encourage his development and growth. Golovin possesses many of Fabregas' qualities and would be an exciting addition as Chelsea look to challenge for the Premier League next season.
Arsenal
With Jack Wilshere's future in the balance and with Aaron Ramsey attracting interest earlier in the transfer window, Arsenal, under new manager Unai Emery, could look to strengthen their midfield before the new season kicks off.
Golovin is a truly electric and creative force in the midfield; ideal for perfecting the transition between defence and attack. Golovin would provide cover for Arsenal's shaky defence, whilst able to feed the ball forward to the likes of Ozil; as he does for Alan Dzagoev for CSKA Moscow and Russia.
For more transfer news, visit CalcioMercato
@snhw_