Alex Del Piero knows who will win between Juventus and Inter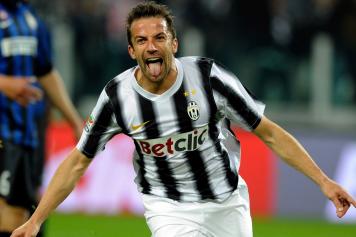 07 December at 10:10
Juventus legend Alessandro Del Piero has talked with La Gazzetta dello Sport.

Ale, if we say Juventus-Inter you answer…what?
"It was the biggest rivalry I experienced, there was also Milan, of course, but with Inter the challenge was more intense for many reasons."

In the famous match of '97-'98 there was a showdown between the two best players in the world: you and Ronaldo. What was the atmosphere and how good was it to challenge the phenomenon?
"Unfortunately, the atmosphere was marred by the focus on other topics, and it was wonderful to be able to compare myself with him in that year when we were both physically and mentally at our top. Ronaldo was a source of great inspiration, competitiveness and cheerfulness. Every Sunday for me it was a virtual challenge with him to see who scored and dribbled more, to see who made more assists and who left the people more open-mouthed."

Juventus-Inter of '98-'99 is the third last game of the first Del Piero. How do you remember today that Alessandro pre-injury?
"The first Alessandro closed his career a few days after that match. Italian football was at the center of the world and I was happy and proud. I was growing, I was good, but from a mental point of view, the second Alessandro was stronger than the first. About my recovery there were so many doubts, I faced and overcame complex challenges ".

Choose another Juventus-Inter of your career.
"The one of San Siro in February 2006: goal on a free kick in the final minutes and the debut of the exultation with the tongue".

Inter are working to get back to being Juve's number one rivals.
"Yes, I've said it for a couple of years, the company is solid, the coach knows Serie A, the team is valid".

After studying all the opponents in the first three months of the season, is there anyone stronger than Juventus or now the Champions is more than just a goal?
"It's more than just a goal: Juve have shown that when they want to win, they win."
Mirko Laurenti