Alisson's story: form Juve snub to Frosinone collapsed move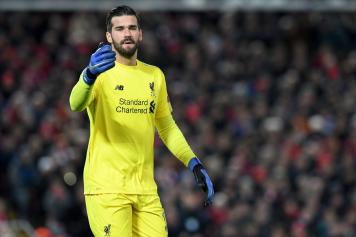 12 December at 12:30
Liverpool star Alisson claimed the spotlight last night in Liverpool vs. Napoli. The Brazilian denied Arkadiusz Milik from scoring the equalizer in the final minutes of play and allowed his side to qualify for the last 16 stage of the competition.
Our very own Fabrizio Romano reveals the story of the Brazilian star before he became famous.
Roma's Walter Sabatini wanted to sign him in summer 2015 but the Giallorossi had already filled their slots for non-Eu players. Alisson's contract was set to expire one year later, and Juventus tried to hijack's Roma's bid to sign the Brazilian promise as Flamengo did only want € 8 million for their star.
Alisson, however, said no to Juventus as he knew Gigi Buffon was the regular starter of the Old Lady and didn't want to end up like his friend Neto.
Sabatini knew there was a lot of competition for Alisson and tried to convince his friend Marco Giannitti (director of football of Frosinone) to sign him on a permanent deal before selling him to Roma one year later.
Giannitti was enthusiastic and accepted Sabatini's proposal. Trouble is, when the € 8 million deal seemed closed, the player's entourage changed its mind and declined Frosinone's offer.
​Alisson opted to remain for one more season in Brazil and join Roma one year later. In 2016, the Brazilian arrived in the capital but was the back-up of Szczesny who joined Juventus one year later allowing Alisson to become Roma's regular starter. After a spectacular season in Rome, Liverpool signed
him for € 72 million, but Klopp would have paid twice as much.
Translated and adapted by Lorenzo Bettoni
Fabrizio Romano