Allan like Kante: How the Napoli star can replicate the success of Chelsea ace at Spurs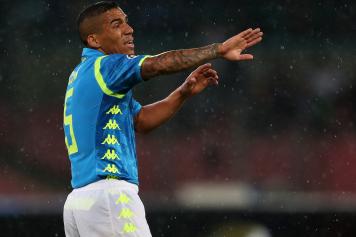 28 November at 17:45
In the recent hours, rumours have emerged of Tottenham's interest in Napoli midfielder Allan, who could be a replacement of Mousa Dembele, who is set to leave the club at the end of the season, at the White Hart Lane. According to reports, Tottenham are looking to offer 40 million euros for the Brazilian, in what would be a genius move for the English side.
Allan is a prominent name in Italian football. He started off his career in Italy in Udinese and after a couple of seasons at the club and impressive performances he moved a step higher, to Napoli, where he fully unleashed his potential, especially under current Chelsea coach Maurizio Sarri.
Allan is a midfielder whose numbers are not as impressive (8 goals and 19 assists in 149 matches for Napoli) but his contribution to the team is enormous. The 27-year-old possesses incredible physique, endurance in combination with technique and the class of a Brazilian. In a sense and in terms of the way he presents himself, he can be compared to Chelsea star N'golo Kante, who is one of Chelsea' absolutely key players and Sarri is using him exactly as he used Allan at Napoli.
In the case of Allan's arrival at Tottenham, the player would be a great contribution to Pochettino's side and would become an engine of the midfield alongside Eric Dier, Christian Eriksen and Dele Alli. His characteristics are perfectly suited for the Premier League as well and thus, in terms of tactical preparation, he would definitely be a step ahead.
Nikita Fesyukov