Coppa Italia:Juventus v Atalanta countdown - Allegri press conference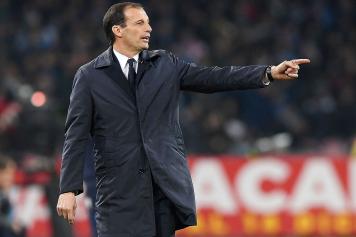 27 February at 12:35
Their Serie A encounter was called off due to snow on Sunday but Juventus & Atalanta are set to do battle once again tomorrow evening in the return leg of their Coppa Italia semi-final tie with the Bianconeri 1-0 up from the first encounter in Bergamo.

Massimo Allegri has been speaking at his press conference this morning and here are the highlights:

On Napoli: "We have a game in hand and Saturday we play our seventh away game out of the last eight. Then we have a good run of matches, but the championship could be decided on the final day of the season.

"Whoever is top of the table on May 20 will have deserved the Scudetto, but we have the desire to win the seventh consecutive Scudetto.

"It would be great if we can win every match from now until the end but we must take it one game at a time."

On the Coppa Italia: "It is an important trophy for us and in the modern era, there has been no club that has won it four times in succession.

"It will not be easy and we will face a team that will want to bounce back after their Europa Legaue defeat last week."

On injured players: "The only one who could make the bench is Higuain but Khedira will return."

On Higuain: "He has done a little training and he's getting better. He doesn't have a problem with starting on the bench."

On Dybala: "He needs more game time that is for sure and I'm sure he will play tomorrow whether it's from the start or from the bench."

On Scansopoli: "It's part of the world of football. Everyone wants to have their say when it would be better to keep quiet.
I believe that playing against Juventus and Napoli is difficult but at the moment, all these controversies have been thrown in the bin because we didn't play on Sunday."