Allegri: "Barcelona's defense is better than their attack. We deserve to be where we are in the standings..."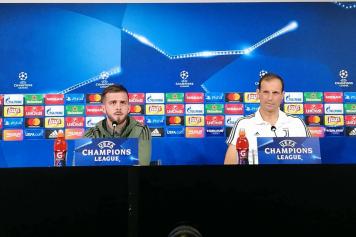 21 November at 21:02
Max Allegri also spoke to the press ahead of the Juve-Barcelona game. Here is what he had to say as our very own
Lorenzo Bettoni
was present at the Allianz Stadium:
" We have to find the right balance that's for sure. Dybala? He started off this season with a boom but he has been struggling a little of late. It is normal that when Dybala faces Messi, people compare them to one another. Even so, they aren't the same type of player at all. Higuain took the penalty against Sampdoria but Dybala will also take some too in the future. We have to do better and yes we deserve to be where we are in the standings. We have to remain very concentrated tomorrow since we didn't do this very well against Sampdoria. Barcelona won't be an easy challenge since they haven't lost yet this season. Khedira? He just came back and he played a nice game against Sampdoria. Since we were down he pushed forward a little too much which left Pjanic isolated. Tomorrow I still have to decide if Mandzukic, Douglas Costa and Matuidi will be playing. Messi? He isn't a Juve player but we all know his qualities. He is the only player in the world who can do the things he does. He is unmarkable at times since he knows how to find the open spaces. We will have to play a perfect game infront of our fans tomorrow...".
Lorenzo Bettoni from the Allianz Stadium: