Allegri better than Guardiola, Zidane and Mourinho: In 2019 he will play for everything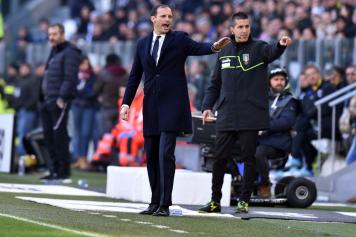 05 January at 13:50
The coaches' reputation is a free balloon in the air: it flies high, lowers in surprise, then returns to rise according to the currents of thought or results. The concept for Massimiliano Allegri is worth more than for others. In recent years he has received compliments and criticisms - for the quality of the game, above all.
Now all his victories in Italy are considered obvious, they are a part of the Saturday night landscape like dinners with friends and old movies on TV. But the numbers say that all this is not normal.
In terms of average points in the league since 2015, Allegri is the number one of the great coaches
. He did better than Guardiola, Ancelotti, Zidane and all the others.
Who thinks this is only the merit of Juve's superiority in Italy, needs to consider another data: if the leagues are joined by European competitions, the discourse does not change. Allegri is first in the percentage of victories ahead of Guardiola and Zidane.
But 2019 will be a very important year for Allegri. It can be a triumphant year or a year of rupture. Juventus have asked him to win the Champions League and for him, it means to make the last step, becoming a coach of European champions. The draw was not nice because Simeone's Atletico is a difficult opponent. The results will depend on small details but this year is sure to be a make or break one for Allegri.