Allegri: 'I lost the match against Man United. Ronaldo deserved the Ballon d'Or'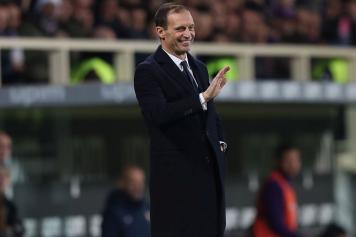 05 December at 12:25
Massimiliano Allegri
spoke from the stage of the
Gazzetta Awards
during the ceremony as the coach of the year.
"Coaching was my challenge. I love impossible things, or almost. When I arrived, they threw eggs at me. I said: 'I hope that in a year they will stop'. I talked to President Agnelli, all the teams I coached gave me something," he said.
"Last mistake? Against Manchester United when we lost 1-2. Sometimes with substitutions, you lose the games. I was wrong, while other times it went well.
"Ronaldo? He deserved the Ballon d'Or. Modric's victory will be an extra stimulus. Bentancur? He is young, he has improved a lot. Chiellini? He has the calmness in managing the games. Together with Sergio Ramos, he is the best centre-back.
"Inter? Marotta wanted me at Juventus. Now he is at Inter, but on Friday he said he will not come. I will put 11 players on the field and I hope to win against a great team. A beautiful game, fascinating, as always a game of five-star difficulty. Spalletti is a great coach. If I'd like to have Icardi? I have a great attack, I am already very happy.
"We need to work a lot on youth sectors and take two steps back in Italian football traditions. Italy has had many great coaches before Sacchi, but we threw them all out. For me, football is a game of knowledge. If you take 20 kids and leave them there, after two months, you'll be back and they've all improved," Allegri concluded.