Allegri: 'Ibra is staying. Berlusconi will decide who to acquire'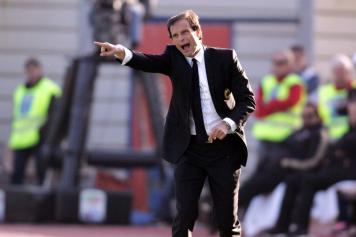 06 May at 15:00
AC Milan boss, Massimiliano Allegri, said in a press conference: "The game tomorrow will be very tough as it will be a big opportunity for Roma to get closer to their target of qualifying for the Champions League. The fact that Lazio lost on Monday means that the Giallorossi have a real chance to pull it off. We'll be faced by a charged-up team, determined to play a good game. They're a very skilled side, it's no incoincidence they were considered one of the favourites for the title at the beginning of the season. The players replacing De Rossi and Perrotta will be up to the task. We're motivated, because we still need one point to win the championship, but also Roma have an important goal to achieve, which is finishing fourth to qualify for the Champions League preliminaries. Borriello? During the one and a half month that he spent with us, Borriello did well and he also had a good start to season at Roma. He did well until Montella's arrival. He's a good player, a classic centre foward, who's scored a lot in his career - his numbers speak for themselves."
Allegri then spoke about his team: ""The team has trained well throughout the week, also thanks to the win against Bologna. That victory gave us a huge lift seeing that it allowed us to keep our advantage over the chasing pack. A very important game awaits us on Tuesday in the Italian Cup semi-final and it will definitely influence my line-up decisions for tomorrow's game. As things stand, I believe that Inter have better chances to qualify for the final. The game against Palermo will be an in-or-out match and Milan have what it takes to advance to the final. I have a full squad at my disposal and this team has already demonstrated that it can play some good football regardless of who's on the pitch, so I'll just have to find the best line-up both tomorrow and on Tuesday. At this moment, the Palermo game is fundamental for our season. Gattuso is doing fine and I'll also take into consideration the fact that he won't be available on Tuesday. We'll see if he'll play tomorrow, I still haven't decided on it. I'm pondering".
Will Ibrahimovic stay at Milan? Yes, why shouldn't he?"
Then he concluded: "I particularly thank the president who gave the chance to coach Milan and who provided these players. And then I must also thank the players themselves because in the end they are the ones who make you win. A player for the next Champions League? I will let the president choose, he's good at chosing. Do I envy Guardiola because he has Messi? No, I don't, but I respect him. Having Messi in your team is a big advantage".