Allegri: 'Juve will continue to win. My successor...'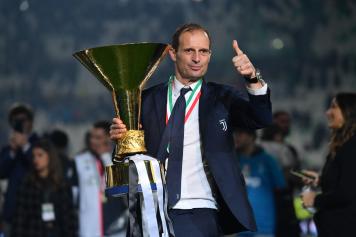 20 May at 17:15
Massimiliano Allegri entered the Italian All of Fame today and spoke from Florence
during the ceremon
y: "I can't give any advice to Juve about my successor. Whoever will be appointed will have a solid club backing him. A very organized club. Juventus will continue to win. I was having lunch with Lippi. We have 10 Serie A titles combined. I leave Juve after five incredible years, I want to thank all the people I met because it's thanks to them that we've reached all these targets".
"I am honored to be part of Italy's Hall of Fame. I am going to gift the last medal that I won. It's the medal of my last Scudetto, my last one with Juve. I want it to be exposed at the Museum in Coverciano".
Lippi did also attend the event: "The sea is something we have in common", Allegri said. "When I went home in Livorno before the meeting with Agnelli I looked at the sea and I had my ideas cleared".