Allegri: 'Juventus allowed Messi to score'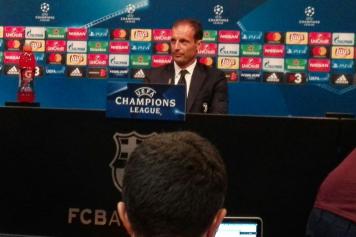 13 September at 09:45
Juventus boss Massimiliano Allegri talked to assembled media on Tuesday night after Juventus' 3-0 defeat against Barcelona. Lionel Messi was the MVP of the game as the Argentinean netted brace to put an end to his Buffon taboo given that the Argentinean had never scored one single goal against the Italian keeper.
Allegri was pretty straightforward when asked about Messi's latest achievement: "It is a fact that Messi had never scored against Buffon. This time he managed to do because we allowed him too much space. He is already so good in tight spaces, tonight we gave him more space so in that sense we allowed him to score."
​Juventus lost their last two Champions League games allowing seven goals, four against Real Madrid this past June and three against the Catalans yesterday night. The Old Lady had only conceded three goals in the previous 12 games played in Europe.