Juventus v Spurs countdown - Allegri: "Higuain is stronger than Kane."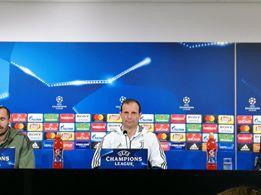 12 February at 20:10
Juventus boss Massimo Allegri was in a positive frame of mind as he spoke at his press-conference ahead of tomorrow's big Champions League clash against Spurs.

The Tuscan tactician told reporters that; "We will not settle for 0-0," he explained, "what we would settle for however, was not to concede a goal.

"We need to be attentive, they are a physical team and we must make sure we have something positive to take to London."

Once again, the question of Blaise Matuidi's absence came up in conversation, Allegri explained that; "We will base our game around the players who are on the field.

"I've been impressed by Claudio Marchisio, I've been impressed with Rodrigo Bentancur and here is also Stefano Sturaro who is the closest we have to Matuidi. I will see how I feel when I wake up in the morning."

On the Higuain/Kane debate, Allegri simply stated; "Who would I put behind Messi, Ronaldo and Neymar? Higuain! Although Kane is a very important player."

Allegri signed off by declaring that; "We must play an exceptional game. If we play to physical we could end up with broken bones. We will try to exploit their weaknesses."