Allegri reveals bet on his Juve exit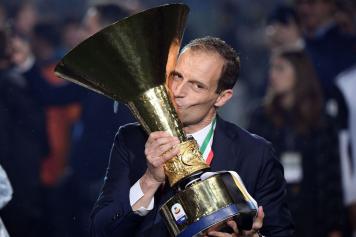 20 May at 00:44
Massimiliano Allegri spoke to
Sky Sport
after Juventus' 1-1 draw against Atalanta, his last gome home at the club. "Juve did the best choice for their future. After the defeat against Atletico I had to secure the Serie A title. People spoke about the return game against Atletico, I was worried about the following Serie A game against Bologna. We needed to maintain a big gap to destroy Napoli mentally. After the game against Ajax I was sure to stay at Juve. Things changed in last month and the meeting we had [on Thursday] is an example of that. I was told that I'd left Juve on Friday morning but after the meeting on Thursday I knew I wasn't going to be the manager of Juventus next season. Future? As long as I have fun, I'll continue to coach. When I won't have fun anymore I'll leave. I don't like routine, I get bored easily" ​
PRESS CONFERENCE -
During the post-game press conference, Allegri revealed a bet that two of his ex-managers Giovanni Galeone and Ivo Iaconi did on his future. "They bet their inheritance - Allegri revealed -. Galeone bet that I was leaving and Iaconi that I was staying. When I knew I was out of Juve I called Galeone: I am his heir now."
FUTURE/2 -
"I don't know if I will be back one day. I spent five amazing seasons here at Juventus but I don't know how I'll be a manager for".
​@lorebetto
Lorenzo Bettoni, correspondent in Turin