Allegri: 'Ronaldo the best in the World with Messi'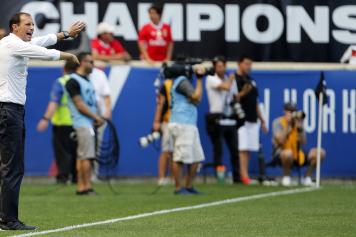 05 August at 09:15
Juventus boss Massimiliano Allegri spoke to media after the Old Lady's 3-1 defeat at hands of Real Madrid yesterday night.
"It was good test between two great teams. We are happy to have been involved in four games here before the beginning of the season. It was a great experience for us because we could play against clubs of a certain level."
"The club has been working well in the transfer window. We are competitive and I am looking forward to begin the season with the players that are at my disposal. It's going to be a pleasure to coach Ronaldo. He is the best player in the world together with Messi."
"With Bonucci we will have five players for two positions at the back. It's going to be a long and tiring season, everybody will play. Some youths have played really well during the season and they could have some game time with us during the season."
​Juventus will make return to Italy in the coming hours. The Old Lady will return to training on Wednesday at La Continassa.