Analysis: Will Maurizio Sarri and Jorginho bring glory to Chelsea?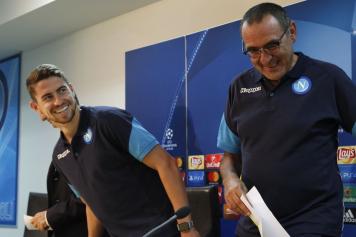 13 July at 22:30
Maurizio Sarri and Jorginho will be joining Chelsea FC. Sarri was in London this evening to complete all the necessary paperwork, whilst Jorginho completed his medical at the club today. Both moves appear to be imminent and Chelsea fans will be excited to see how their new signings get on at the club.
Maurizio Sarri
Whilst at Napoli, Maurizio Sarri implemented a 4-3-3 system, which allowed Napoli to complete at the top of the Serie A table. They very nearly dethroned Juventus in the 17/18 season, which is likely why the Chelsea hierarchy have done everything in their power to bring him to Stamford Bridge.
Chelsea do have the players to employ a 4-3-3 system and Sarri will perhaps run a tactic close to what he used in Naples. Antonio Conte largely used a 3-at-the-back formation with Chelsea in the 17/18 season, alternating between a 3-4-2-1 and a 3-5-1-1. Rudiger, Christensen and Azpilicueta featured primarily as Conte's back three, with Gary Cahill and David Luiz back-ups for the Italian coach.
Now, with Sarri's arrival, Azpilicueta will slot back into his natural position at right-back, should the head coach choose to stick with his natural 4-3-3 tactic. If he can keep a hold of Eden Hazard, the Belgian will feature on the left wing, whilst the arrival of Higuain would see the Argentine play in a central forward position.
The 4-3-3 will, or at least Chelsea fans hope will, bring success back to West London, as the club attempt to challenge for the Premier League title once again, after finishing in a disappointing 5
th
place in the 17/18 season.
Jorginho
Jorginho will bring a much needed passing outlet into the centre of Chelsea's midfield. It will likely open the door for Cesc Fabregas to leave, with Napoli and Lazio rumoured to have been interested in the Spaniard. Fabregas is thought to be losing his touch slightly and Jorginho's passing ability speaks for itself.
Jorginho would fit easily into Sarri's 4-3-3, should the coach choose to use it at Chelsea, whilst he can also adapt to a number of three at the back formations, if Sarri keeps the tactic that Conte familiarised the squad with during his tenure.
Jorginho is a very talented midfielder, making one of the highest amounts of passes in the 17/18 Serie A, bridging the gap perfectly between attack and defence, allowing Napoli to transition and counter-attack in a mere matter of seconds. This will be especially useful if Chelsea keep hold of Hazard, with Jorginho likely to occupy the left of the centre-midfield roles, like he did at Napoli.
It is an exciting time for Chelsea fans, with both Jorginho and Maurizio Sarri's arrivals likely to bring smiles to their faces. With these two signings, Chelsea can even challenge Pep Guardiola's Manchester City and Mourinho's Man Utd for the title once again.
For more news, views and features,
visit our homepage.
@snhw_