Ancelotti doesn't believe Juventus are unbeatable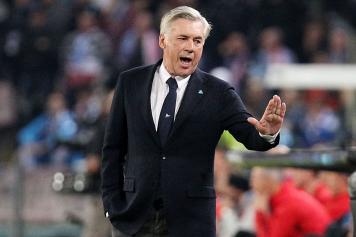 07 December at 12:00
Carlo Ancelotti, interviewed by Gazzetta dello Sport, talked about several topics.
What is football in the life of this city? Is it a hope? Is it a diversion? It's a game?
"It should be a game, it was born like that, so it is lived by children, but for this country football is not so much a game, but a diversion, in Naples it is also a revenge, a sort of redemption from the sense of abandonment that this city has legitimately introjected over the centuries. It remains a game for me. Nice, exciting. I still enjoy it, I still do it with passion. I hear so many people say that footballers cannot sleep because of the pressure. I always sleep.
How much does the physique in modern football? Is it more important than football intelligence and technique?
"No, the most important thing is intelligence, and then, of course, there is genetics, which is talent and also physicist, it's a combination, I do not really care about size. Slow players, for example, continue to play football, because football can play by everyone: the slow player, the fast player, the short player, the tall player, it's everybody's sport The physical aspect in my football idea still does not have the predominance over 'technical intelligence and tactics ".
Yes, in fact you have Mertens, Insigne and have had Verratti that certainly are not giants.
"I do not want to make a speech just about Naples, of course, I want to talk about the Italian stadiums and the fight against all intolerance: one thing is the funny choirs and banners, the other manifestations of hatred and the demonization of cities, skin colors, ethnic or religious affiliations. It is a malpractice that must end, I believe that the president of the Federation is sensitive to this, the referees are sensitive, there are rules that the competent organization must enforce. If there are those choirs, procedures must be implemented".
Koulibaly once told me 'I am Neapolitan'. Do you feel a little like that too?
"Yes. I like the atmosphere here, the environment, Naples welcomes, it does not reject".
Where can this Naples get this year?
"We do not know, I think this team has a lot of potential and showed it in the Champions League, which was very difficult, we have grown a lot in personality, because these games help us to grow, we are a team that cannot play at a low pace. To succeed we must always work at a high pace ".
Napoli has the best midfield in Italy. Is that it?
"I am convinced of this: Allan, Fabiàn Ruiz, Hamsik, Diawara, Zielinski, Ounas, six high-level midfielders, we are very competitive in completeness".
Are Juve unattainable this year?
"No, Juventus are very strong, very continuous, but unattainable, no, in my football experience I have not found unbeatable teams yet, to keep up with Juventus, you have to work miracles".
In a distant future, do you imagine yourself the national coach?
"Not today, I had the chance months ago, I talked to the FIGC, but I told them that I wanted to train a club, I like being here every day, I do not like training three times a month".
Mirko Laurenti