Ancelotti provides update on Allan and confirms Napoli will ask to stop games for racist insults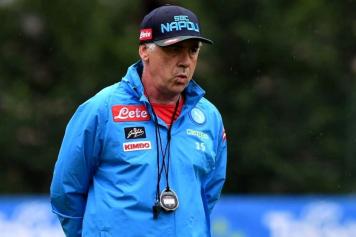 12 January at 15:00
Napoli boss Carlo Ancelotti held a press conference before the Coppa Italia match against Sassuolo.
ON RACISM - "Racism seems to be a problem of Napoli when, in reality, it is a problem of Italian football. Napoli have lived this moment in San Siro that was not goliardic, that evening there was nothing to laugh. The debate is open, there are many oppositions. We have no pretension but there is a regulation and a protocol that has not been respected. We want it to be respected. In the event of other racist abuses. We only ask for the temporary interruption game: it is not our problem, but a serious social problem".
ON ALLAN - "I'm not afraid of losing him, the club's will is to remain as competitive as it has been in the last few years. There's only the chance to give a player on loan because we do not want a squad that's too large for training. Allan will not play from the beginning tomorrow because he had a permit, as well as Ospina because he trained just a little".
ON KOULIBALY - "He was on vacation, he's back well and he'll play tomorrow. There will also be an appeal for the disqualification. It is a legal speech, but I don't think it will end very well"
ON THE OBJECTIVES FOR 2019 - "The same of last year. Now a very short competition starts (Coppa Italia), with 5 games you can win it. If we do well we can achieve a great result. The team has prepared well, physically and mentally. We are focused on this competition, the easiest to win".
ON MILIK - "If he had played more, he would have more goals but we are not looking for that. He's been out for two years. He is important for us and therefore we want to keep him safe. He reacted very well and he is finding more and more conviction and trust".
ABOUT VICTORIES - "The company is destined to grow in the future, there is everything to improve. This year the market campaign was focused on young people like Meret, Fabian, Verdi, Younes, they are destined to grow and with their growth, and some adjustments in summer, you can improve".
ON GAETANO "At Dimaro he showed excellent qualities, as well as in Primavera, the work on him is paying off. He is an offensive player, of quality, of great perspective".
ON ROG ALTERNATIVE TO ALLAN - "With the ifs and buts, you do not go anywhere. This will not happen at the moment, Rog is one of those players that we consider to let go on loan".
ON INSIGNE - "He certainly has chances for growth, especially on continuity. He played very well in the first part of the season, less in the second but he gave his contribution. He will play tomorrow ".
ON COPPA ITALIA SNUBBED BY FANS - "I hope there will be a lot of people at the stadium, it's important for us. Coppa Italia is short competition and to get to the final is not enough, it would be just like to go out if you're not ready to go out. It's one of the two competitions we can win and it depends on us. In Serie A it does not depend only on us".
ON PRIORITY IN COMPETITIONS - "There is no priority in the competitions in which we participate, also because we cannot choose. We must be ready and we will be because the team is competitive".
Mirko Laurenti