Are Lukaku, Mertens & Hazard the World Cup's most complete attacking partnership?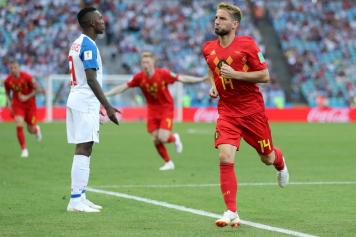 18 June at 23:35
It was Belgium's turn to kick-off their World Cup today and, given the pressure of shock results for Brazil, Germany and Argentina, and underwhelming performances from France and Uruguay, they performed extremely well.
Despite a slow start to the game, the Belgians eventually eased to a convincing 3-0 victory over Panama; with the Central Americans being worn down by the relentless attacking talent of the Belgium squad.
Belgium started the match with an extremely attacking 3-2-5 formation, which saw Dries Mertens and Eden Hazard at RF and LF respectively and Romelu Lukaku up front. Thomas Meunier and Yannick Carrasco played as defensive wingers, tracking back to full-back to defend. However, the system was not working for Roberto Martinez and he later switched to a 4-3-3.
Belgium were tipped by many to be rank outsiders for this year's World Cup and they've certainly stepped up where their competition has fallen. With a commanding 3-goal victory in their first game, we have to ask if Lukaku, Mertens and Hazard are the World Cup's most complete attacking partnership.
Each of Belgium's attackers brings something entirely different to the game. The physical presence and finishing of Romelu Lukaku, the flair and passing of Eden Hazard, and the agility and positioning of Dries Mertens.
Against Panama, Belgium demonstrated their attacking abilities for all to see. With Kevin De Bruyne lingering in the midfield, this is certainly an added bonus. However, excluding De Bruyne we can take a look at the way the front three interact.
One of Lukaku's primary functions seems to be using his physical presence to hold up play and make life difficult for the opposition defence. Lukaku had plenty of space thanks to the narrow runs of Mertens and Hazard, complimented by the wide movement of Meunier and Carrasco.
Once on the ball, Lukaku demonstrated his finishing ability by scoring two goals; whilst also showing a drive in the final minutes to add a third. This late-game 100% is something Manchester United fans would not be used to seeing and altogether makes him a more constant threat.
Dries Mertens and Eden Hazard were utilised by making runs both out-wide and cutting inside, which gave Belgium plenty of attacking players forward and in the penalty box. Hazard and Mertens' physicality, or lack thereof, can perhaps be considered a weakness. Panama were constantly clattering them and made it difficult for them to cause problems in the first half. However, Lukaku's physicality in the middle means that Mertens and Hazard began to look to move into space off-the-ball, by passing to Lukaku, rather than trying to beat the man themselves.
In terms of attacking partnerships, few can rival the one of Lukaku, Mertens and Hazard. Antoine Griezmann, Kylian Mbappe and Ousmane Dembele can be considered for the title, whilst the boys from Brazil are certainly up there too.
What Belgium's attack has that Brazil and France don't is a sense of completeness and balance. The Belgians have attacking options for a variety of different play-styles and tactics, meaning Roberto Martinez can easily adjust the formation as he sees fit; as demonstrated today. For this reason alone, it is hard not to consider Belgium as having the most complete attacking partnership.
For more news and features,
visit our homepage
.
@snhw_