Argentina, a Messi-Dybala partnership would be the least of their problems...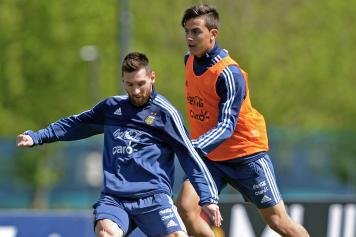 21 June at 22:18
Argentina took on Croatia today as they lost by a 0-3 score line today. In the end, Rebic (after a Caballero howler), Modric, Rakitic got the goals as Croatia fully deserved to win. With the win, Croatia have progressed to the next phase as Argentina's presence in the tournament is now in heavy doubt (the Iceland-Nigeria game will be important for Sampaoli's club). Many people have been wondering why Higuain and Dybala have started on the bench over these last two games as this is a good question.
A DYBALA-MESSI PARTNERSHIP IS THE LEAST OF THEIR CONCERN- Some have said that Messi and Dybala can't really play together since they are too similar and they both like to play in the same position. We feel like a Messi-Dybala partnership is the least of Sampaoli's concerns. There are so many other issues with this Argentine side. They seem lost tactically speaking and they seem out of ideas. Their back-line (and keeper) seem very weak and their midfield has been poor too. Upfront, they have alot of talent but Sampaoli hasn't really been picking the right players one could feel. His players don't seem fit as they have been a major disappointment so far...
(@Calcionews89)