Arsenal defender speaks out on Diego Costa clash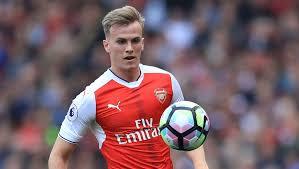 05 August at 17:34
Arsenal defender Rob Holding has spoken out about his clash with fiery Chelsea forward Diego Costa in last season's F.A cup final, where the Gunners beat the Blues 2-1.
According to ESPN
, he 21-year-old Holding spoke at an Arsenal Q&A event, and labelled Costa a 'nutter' before conceding that he does share a mutual respect with the former-Atletico Madrid man.
At the event, Holding was asked what he called Costa during the match, and he said, "An expletive, then I just called him a nutter basically. Something's not right in his head, I don't think."
"I knew what he was going to play like, I knew he was going to try the mind games and try and throw me off my game, so I just didn't rise to it and got back into position," he said. "I think he sort of tapped my chest, so I think there was a little bit of respect there maybe -- so he was alright."
Jacque Talbot
Follow:
@Jac_Talbot