Arsenal update: Wenger insists his "really loved" French matchwinner is not for sale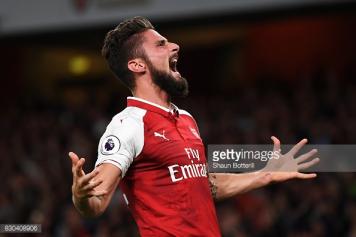 12 August at 09:45
After coming off the bench to steer his side to victory in last night's Premier League thriller at The Emirates, French striker Olivier Giroud's future looks to be with Arsenal. After a breathless 90 minutes which saw The Gunners score twice in the final seven minutes to grab their opening three points of the season, boss Arsene Wenger assured any potential suitors that they can forget about taking the 30-year-old frontman stating that he was "really loved" at the club.

Wenger went on to explain that; ""It's impossible to keep all the strikers happy when they don't play, but we have many games and hopefully I can give them all a good number of games. I love the man and the player [Giroud] and he doesn't want to leave and I'm happy that he wants to stay. I opened the door for him, because I knew we had many strikers, but he's really loved here and he decided to stay."

Giroud had been the subject of a £20M interest from Everton but now his immediate future looks to be in North London.