As Jorginho approaches Napoli departure, how will he fit in at Manchester City?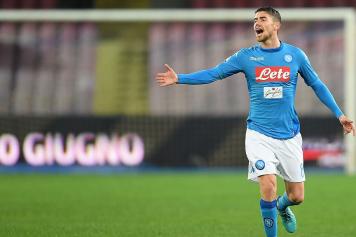 17 June at 12:55
Jorginho's tenure in Naples is quickly approaching its end. Premier League giants Manchester City came knocking and, with a figure believed to be around €50 million, Napoli were powerless to resist.
The 26-year-old Italian midfielder has been at Napoli since January 2014, when he transferred from Hellas Verona for around €9.5 million. In his four years at Napoli he has evolved as a player and this article will take a look at what Manchester City fans can expect from their new signing.
Play-style
Jorginho is a true engine in the midfield. His primary asset is his passing and he will fit in well with the creative midfield talents at Manchester City; Kevin De Bruyne, David Silva, etc. In the 17/18 Serie A season, Jorginho achieved an average of 96.9 passes per game - an incredible feat. The next closest non-defender to that count is Juventus' Miralem Pjanic, who averaged 66.7 per game.
As a quick aside, here are the top passers for the Top 5 European leagues and how they compare to Jorginho.
Jorginho (NAP) – 96.9
Marco Verratti (PSG) – 92.7
Nicolas Otamendi (MCI) – 90.4
Mats Hummels (BAY) – 77.7
Toni Kroos (RMA) – 76.7
As you can see, Jorginho has the most passes per game on average in the whole of Europe's top 5 leagues.
A big part of Jorginho's passing game is the ability to play one touch passes to effectively transition his team's play from defence to attack. For Napoli, he often filled the gap in between the opposition midfielders and strikers – yet would drift out wide to provide support for his teammates.
His one-touch passing, vision and decision-making combine to create a perfect central-midfielder. He can pick up the ball anywhere in the middle third and will have already scanned the field for potential recipients of his pass, before he has even received the ball.
Given Manchester City's creative and passing strength already, Jorginho will truly be the icing on the cake for Guardiola as he looks to cement a period of dominance in both England and Europe.
Defensively, Jorginho is competent, if not talented. He is able to dispossess opponents with his physicality and can produce a well-timed slide tackle when needed to. However, it would be foolish of Guardiola to always play Jorginho in more defensive roles, as his lack of agility can sometimes leave big holes in his team's midfield.
Jorginho's main defensive strength lies with his positioning and awareness; the more mental attributes of a defender's play-style. With a high level of football intelligence, Jorginho intercepts passing lanes, using his midfielders mind to predict the opposition's next move. When doing this, Jorginho can quickly turn over possession and, as he will have already scanned the field for his teammates, can quickly turn defence into attack in a matter of seconds.
Tactics
For Napoli this season, Jorginho featured primarily as a central midfielder in a midfield trio in Sarri's 4-3-3. Playing alongside two of Marek Hamsik, Allan and Piotr Zielinski. Jorginho was Napoli's primary passing outlet; a real creative force in midfield – yet he may have to settle for a more general role in Guardiola's Manchester City side.
One of the main differences between the set-ups at Napoli and Manchester City is that whilst Sarri sticks with the same formation, Guardiola enjoys to experiment. Although sticking to four-back formations, usually with a flat midfield two or three, could help Guardiola work Jorginho into his side.
Jorginho would not necessarily replace a current Manchester City player but add more depth and a stronger first time option to Fernandinho. Not to mention the fact that Fernandinho is 33 and David Silva is 32. At just 26, Jorginho could be the future of City's midfield, alongside Kevin de Bruyne, 26, and Ilkay Gundogan, 27.
Jorginho's passing will make him a valuable asset for Guardiola's side, whilst his defensive positioning should help solidify City's midfield. Guardiola will have a very talented player in his hands with Jorginho and as the deal nears completion, Manchester City fans have cause to be excited.
For more Serie A news and features,
visit our homepage
.
@snhw_